8/17(土)お盆は3日連続でDWS。半島を歩き回り、外れもあったが、今朝のポイントはGood!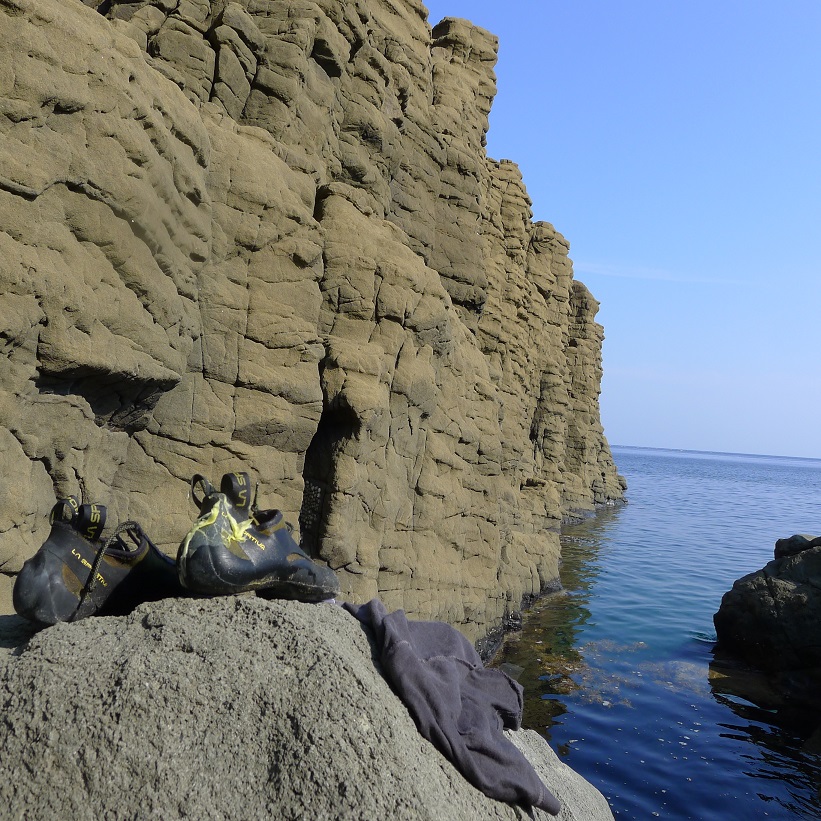 周囲にはハイ・ボルダーもゴロゴロ。(この写真で解った人もいるか)?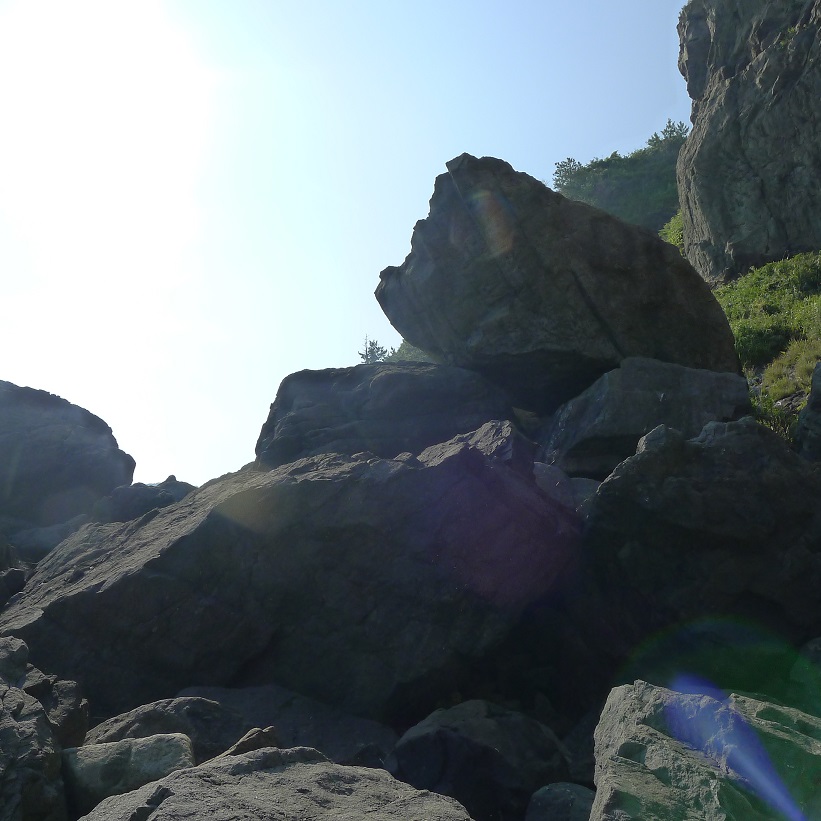 ラインは5.8から5.10aくらいで、落ちる気はしない。海水浴場の飛び込み台から飛ぶのも苦手だった腰抜けなので、DWSに慣れるには飛び込みからだ。徐々に高度を上げていく。最後に6~7m位からジャンプ出来た。このスリル、病み付きになる。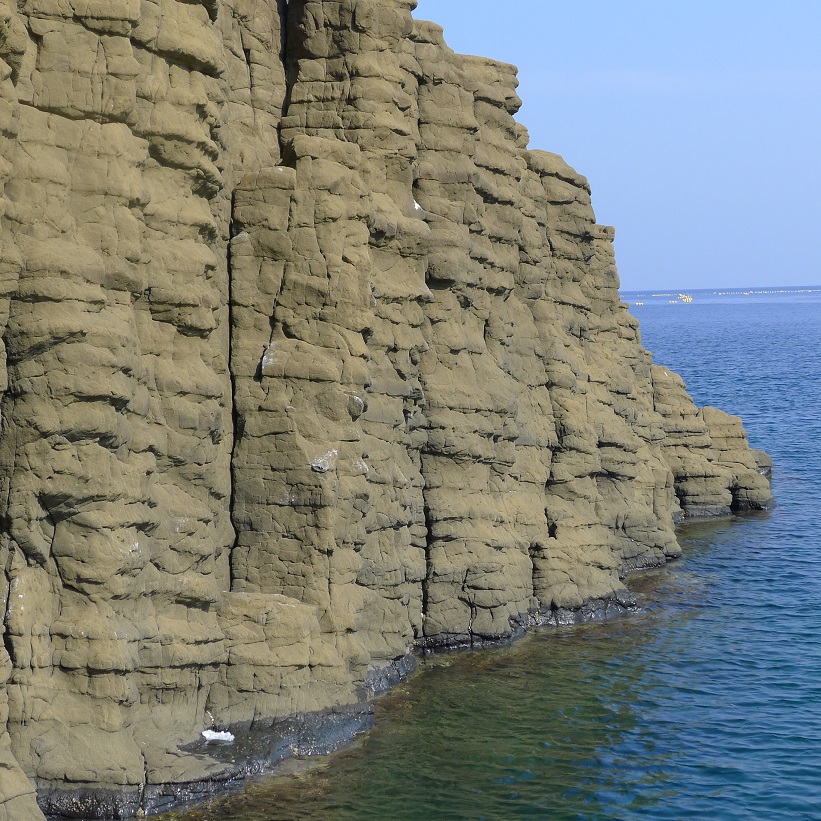 ロープもギヤも、ビレイヤーも要らない。1人遊びには最高です。やってるうちに色んな事が解ってくる。チョークバッグ代わりに小さなレジ袋に一回分のチョークを入れ、腰につける。飛び込んだら新しいレジ袋に交換。これで幾らでもチョークアップが可能
。(DWSは危険が伴います。この記事を真似て、死んだり、怪我をしても当方は一切責任がありません。)
Deep Water Soloing
There are a lot of Climbing Styles, and Deep Water Soloing (DWS) is one of them. Having to climb a rock and fall on deep water sets it apart from the other styles.
Deep Water Soloing is also known as psicobloc, which is a form of Solo Rock Climbing. It is also known as Water Bouldering in some countries. Deep Water Soloing is a rapidly growing sport not only for the experienced climber but for the swimmer as well since it is practiced on sea cliffs at high tide.
Before starting Deep Water Soloing, there are obviously a lot of factors to be considered. First is the cliff's environment. The weather must be sunny and warm when doing this activity. Since you will be falling off on water and climb the rock wet, the sun is important to keep you warm and if you want, the sun can give you a good tan. Second, choose a safe route and never go beyond what you think you can do. Below is the grading system, or the "S" grades for Deep Water Soloing: ◾S0 – Safe Solo. This has an area of deep water.
◾S1 – Pretty safe. Watch out for boulders and water depths.
◾S2 – Not quite safe. Recommended during high tide. Pick a landing spot carefully.
◾S3 – Dangerous. You will fall on shallow water which will make your fall painful.
You should watch over the tide of the sea that you will be landing on. On your first fall, it can still hurt if you came from high up. Be sure to fall on a good angle so as not to injure yourself.
For your safety, here are some guidelines that can help you have fun in Deep Water Soloing: ◾Choose the right time of the year for the best tides. You'll find it between June to October.
◾Gear up with loads of chalk, chalk bags, and boots as dry set is desirable after each fall.
◾Go Deep Water Soloing with a friend. Not only do you have someone to share your joys with but also a companion just in case something unexpected happens.
◾Check out a well-known venue to ensure safety of the place you are going to.
◾Stay within your grade, and increase every time you are able enough to handle dangerous routes.
You have to be cautious when you try Deep Water Soloing. Sometimes, the water temperature would be too cold and it would be hard for you to breathe. You must be a really good swimmer so you can be strong enough to counteract the waves and swim to a safer place. Be aware of hypothermia, which is a very real risk in this type of activity.
There are a lot of things to keep in mind since Deep Water Soloing is a dangerous sport. But once you are into it, adrenaline rush will help you enjoy every climb and fall that you will experience.